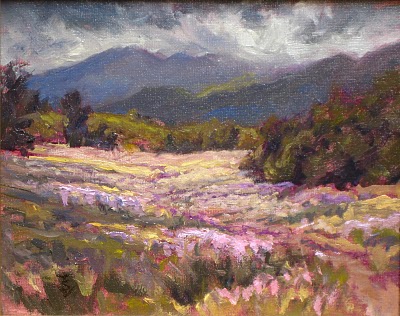 The Demo of April 28, 2010 is finished. Time to get it framed and to the Gallery.
I admit, I made the painting of the flower fields look more idyllic than it was; but that is what I get paid to do. A higher art is to take something mundane and unattractive, and make something more beautiful out of it.
The initial inspiration, or motif, for me was the illusive light sporadically falling in the foothills beyond. By making these lighter areas as the focal point, and keeping the foreground subdued and darker the viewer can move into the painting.
I suggested the pattern of the "path" because it was not only non-existent to begin with, but I wanted a 'lead line' to help guide the viewers' eye toward the focal point in the distance without being too deliberate, contrived or predictable.
Photo by James Strenger