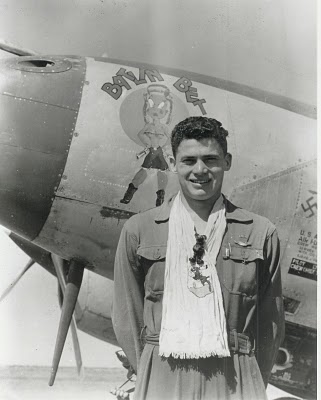 Kenny Frost was only 24 years old (considered an old man by his flying comrades). An art student, who in 1942, studied art and played football at L.A.C.C., with my Mom's future fiance', Bob Ketron, and coincidentally, my former Jordan Jr. High School P.E. Coach, the late Raul Regalado,
This was just some of the information I ascertained over what would take close to two years of investigative work in order to get the full story of the "Batlin' Bet" and of why he named his plane after her.
In my youth I'd already done a couple of drawings and paintings of Kenny Frost's Plane, including an illustration (not a very good one), showing the airplane in action strafing a locomotive. The Kenny Frost, and the "Batlin' Bet" was a part of the Allies' victorious WWII effort. I was proud of that.
How could I honor Betty and Kenny?
My mom, was in some way, what brought Kenny good luck. At least he believed so. Naming an aircraft after a particular woman held some sort of hope or wishful thinking. The "Batlin' Bet", got Kenny back home, safely, after flying 50 combat missions; including escort missions over Ploesti Oil Fields, and strafing missions in which he destroyed four locomotives, and one aircraft on the ground.
It was this action which eventually earned him the Distinguished Flying Cross--Posthumously.

I started to dig deeper...
Kenny and his Hand Painted Nose Art, "BATLIN'BET'
Foggia, Italy, 1943