Rose Garden, 14 x 20 | oil on panel
Golden Light 18 x 18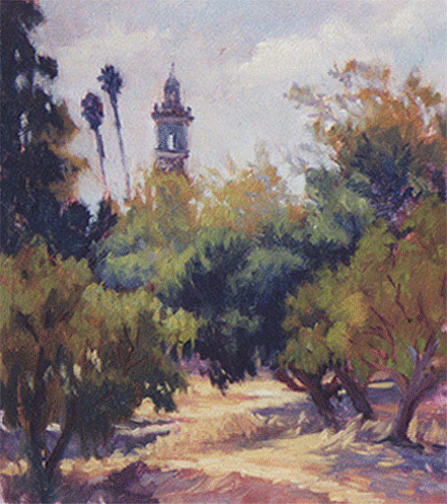 St. Anthony's, Fall, 12 x 9 | oil on panel
This demonstration painting for my class, I entered into the Santa Barbara Art Walk, and received the award of, "Director's Choice". SOLD
Moonrise, 10 x 14 | oil on panel
Award Winning Plein Air Nocturne: 1st Prize, National Juried Art Competition at the Abend Gallery, Denver Colorado
Juried by artist Quang Ho
SOLD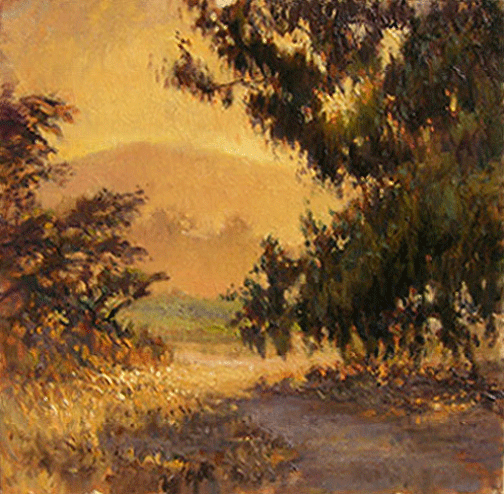 Sunrise, Artist's Trail, 18 x 18 | oil on canvas
Garden of Passion, 48 x 72 | oil on canvas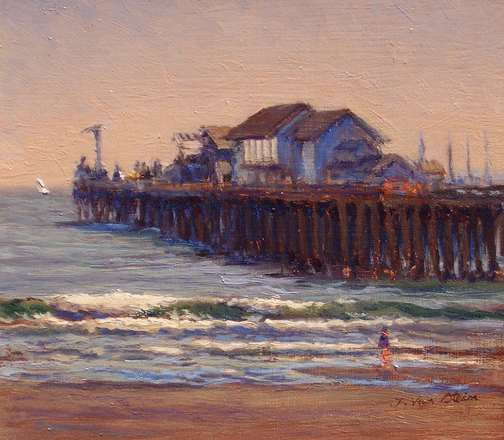 Stearn's Wharf, 10 x 10 | oil on panel
Madam's Garden at Twilight, 30 x 40 | oil on canvas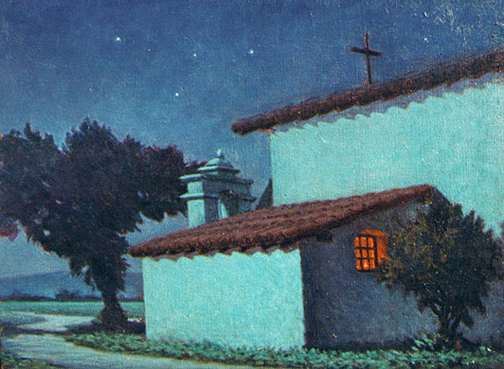 Baptismal Moon, 24 x 30 | oil on canvas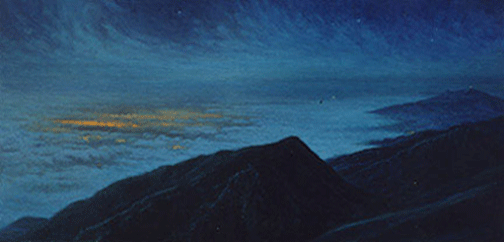 Angel's Flight, 22 x 44 | oil on canvas
Foggy Night, Palms, 24 x 32 | oil on canavas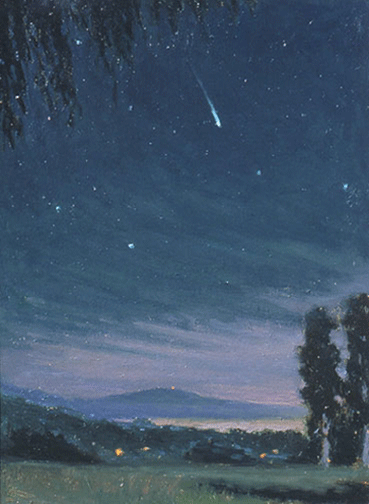 Shooting Star, 16 x 12 | oil on panel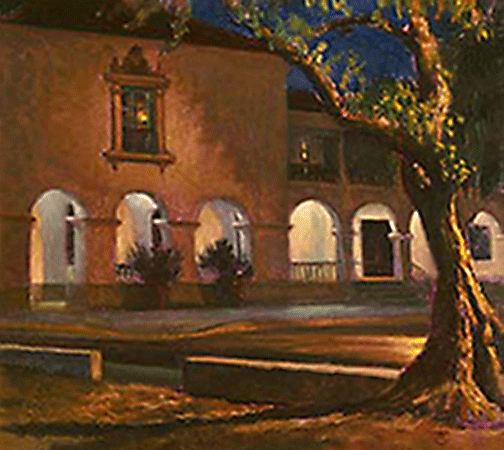 De la Guerra Nocturne, 16 x 18 | oil on canvas
Urban Nocturne, 14 x 16 | oil on panel
London Rain, 14 x 10 | oil on panel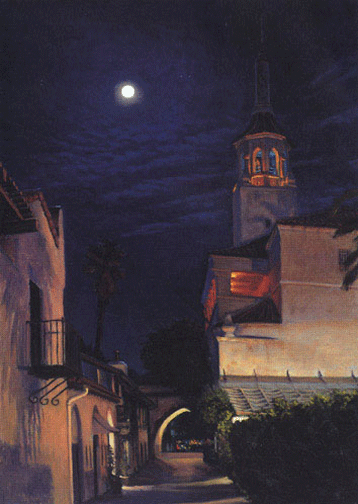 Arlington Moonrise, 56 x 40 | oil on canvas
Milpas Street Crossing, 20 x 30 | oil on canvas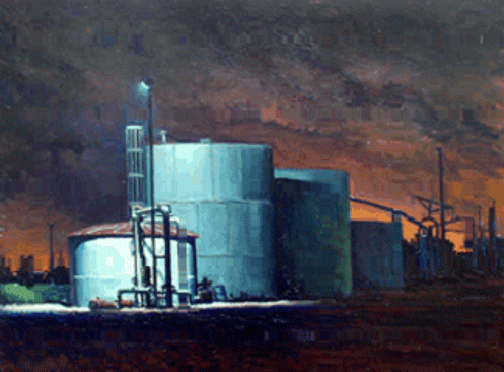 Oilfield Nocturne, 30 x 40 | oil on canvas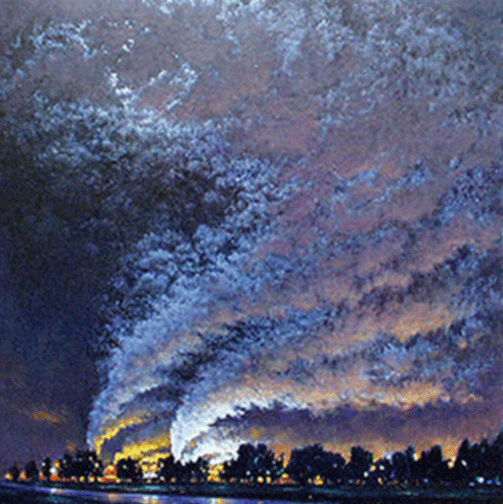 Paper Plant Nocturne, 46 x 46 | oil on canvas
Fog and Eucalyptus, 22 x 24 | oil on board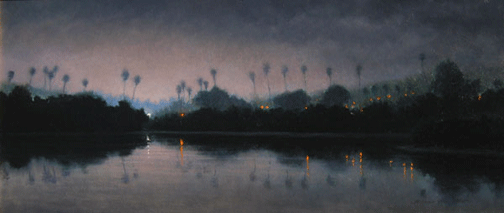 Silver Light Nocturne, 16 x 30 | oil on canvas
Moonset, 3 am, 10 x 14 | oil on panel
Down on D Street, 28 x 22 | oil on canvas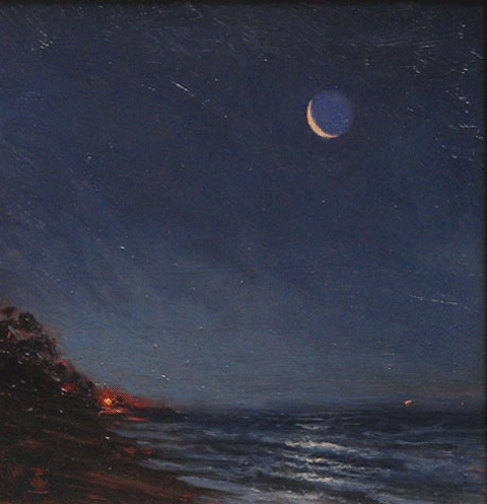 Moonrise Dawn, Carpinteria, 9 x 9 | oil on panel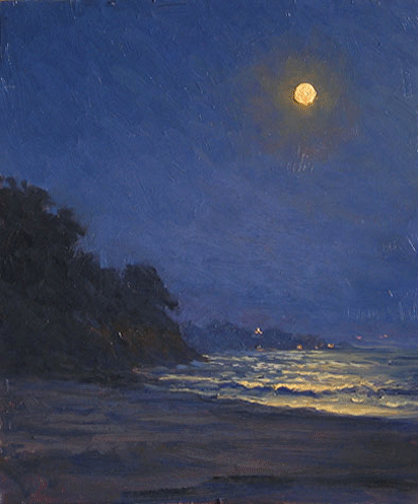 Summer Moonrise, Santa Barbara, 12 x 10 | oil on panel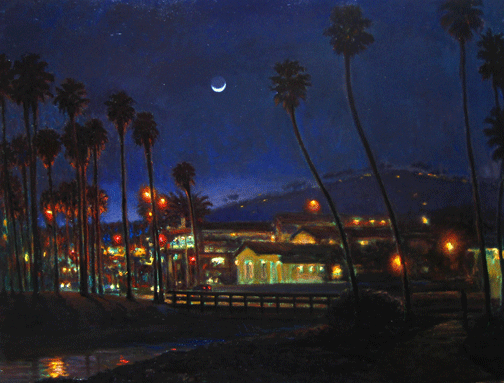 New Moon Mission Creek, 30 x 40 | oil on canvas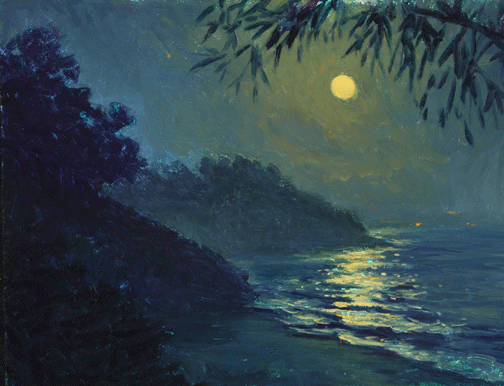 Spring Moon, 16 x 20 | oil on panel
Crescent Moonset, 24 x 36 | oil on canvas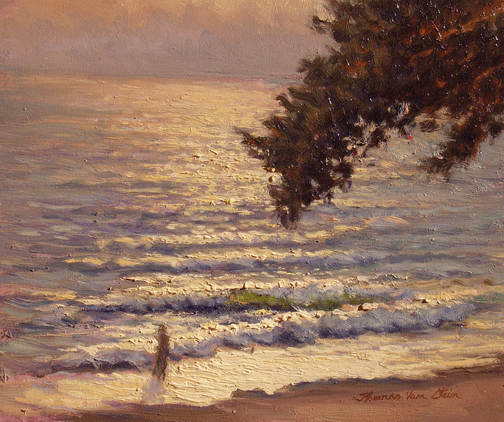 Summer Waves, 10 x 12 | oil on panel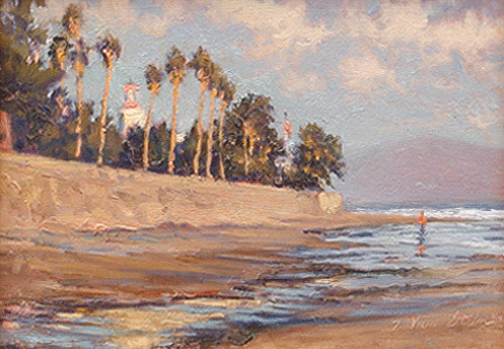 Coral Casino Sunset, 12 x 16 | oil on panel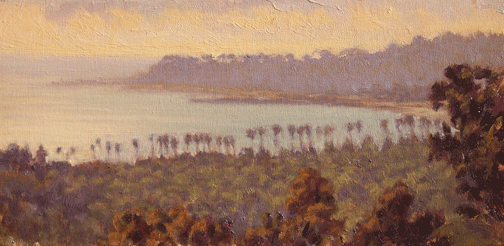 Vista Santa Barbara, 10 x 20 | oil on canvas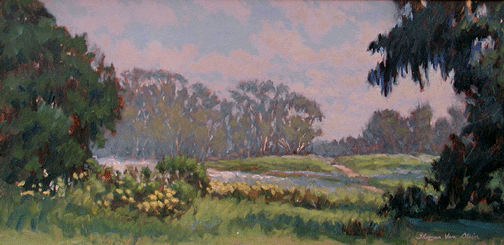 Gentle Spring, 12 x 24 | oil on canvas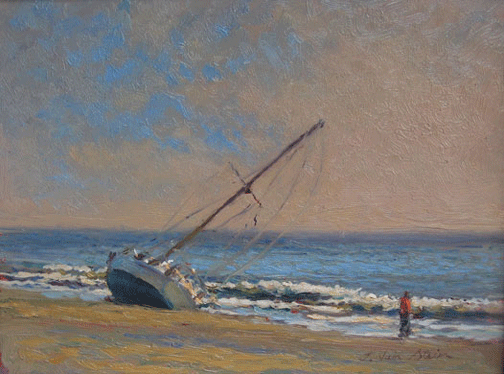 Better Days Gone By, 10 x 14 | oil on panel
Bird Refuge Impressions, 9 x 12 | oil on panel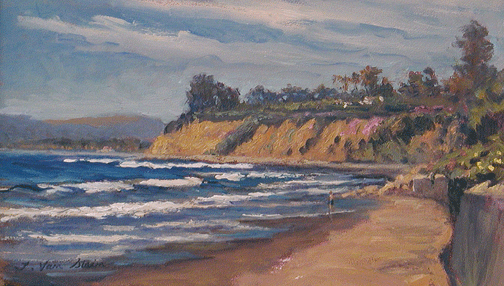 Mid Morning, Butterfly, 9 x 14 | oil on panel
Lifeguard, 8 x 8 | oil on panel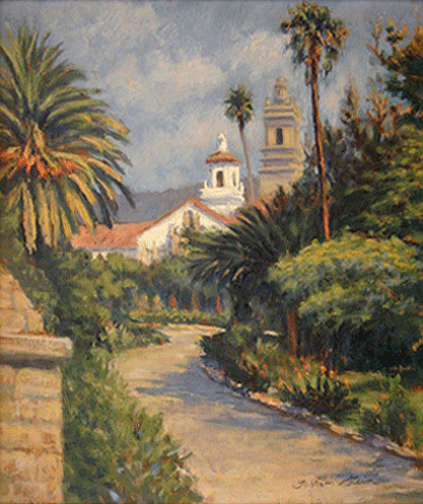 Road to St. Anthony's, 14 x 12 | oil on panel
Sunrise, St. Anthony's, 24 x 32 | oil on canvas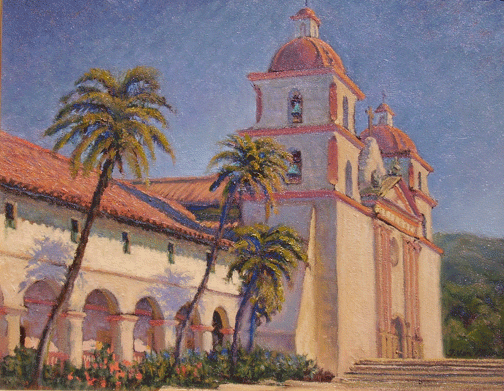 Morning Light, Santa Barbara Mission, 24 x 30 | oil on canvas
New Moon, Winter Santa Barbara, 18 x 14 | oil on panel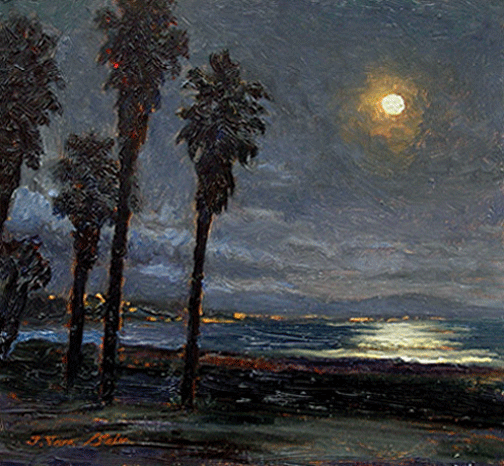 Fall Moonrise, 11 x 12 | oil on panel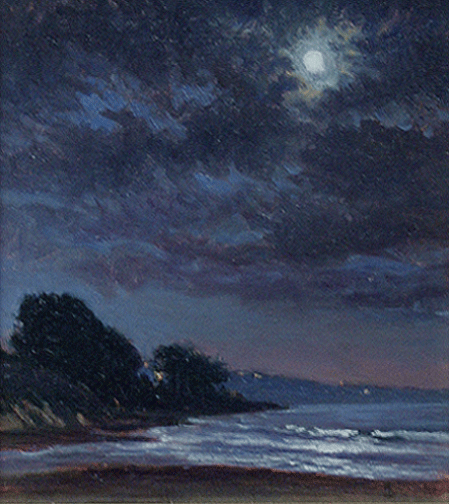 Passing Eclipse, 22 x 14 | oil on panel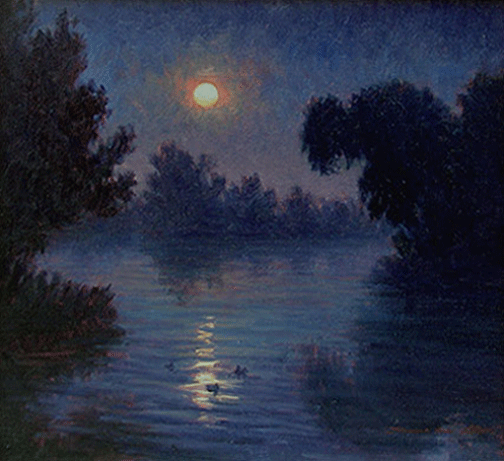 Moonrise, 20 x 22 | oil on canvas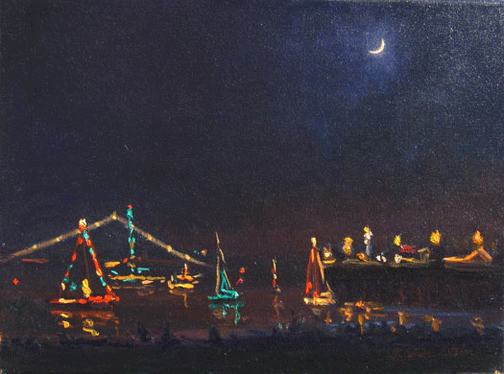 Parade of Lights, 12 x 16 | oil on canavas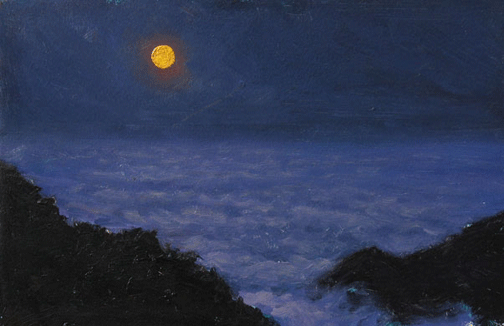 Buddah's Moon, 8 x 12 | oil on panel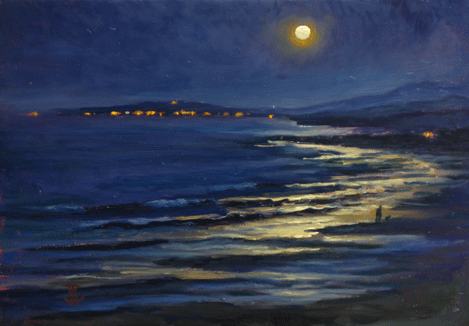 Winter Moonset, Carpinteria, 10 x 14 | oil on panel

June Moonrise, Santa Barbara, 13 x 23 | oil on canvas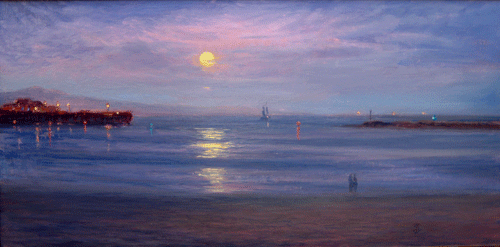 Moonrise, Santa Barbara, 12 x 24 | oil on canvas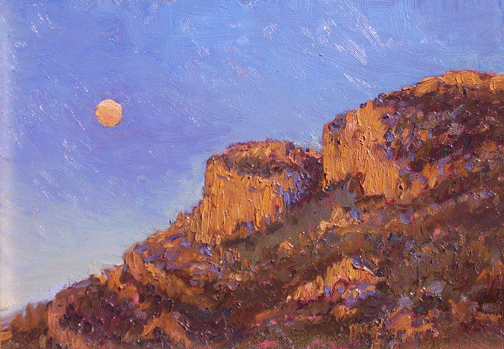 Moonset Over the Tet, 6 x 8 | oil on panel
Notre Dame, 10 x 14 | oil on panel
Florence, 6 x 8 | oil on panel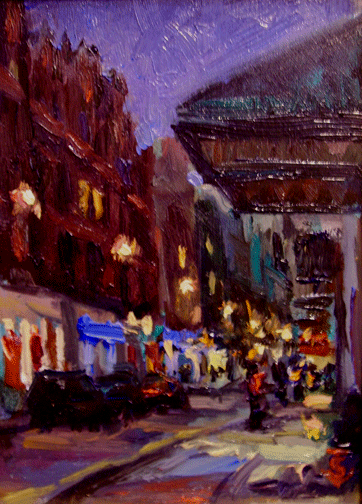 Chiltern Street, 8 x 6 | oil on panel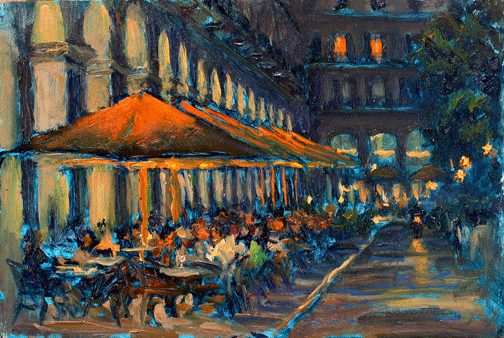 Night Cafe, Spain, 9 x 12 | oil on panel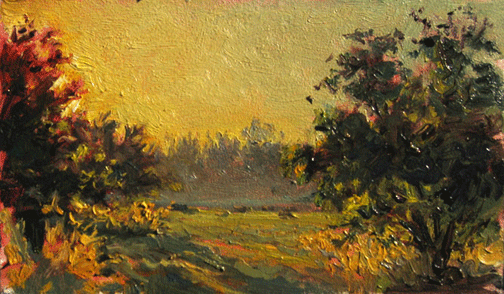 Farmland Sunrise, 4 x 7 | oil on canvas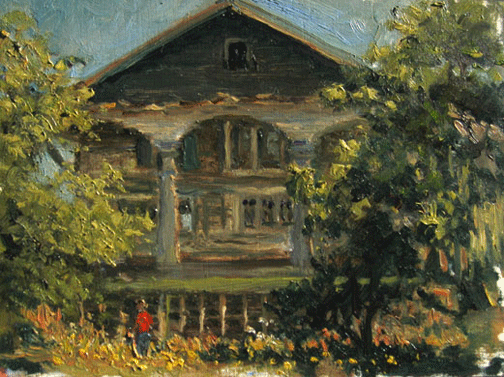 The Blueberry Farmer, 6 x 8 | oil on board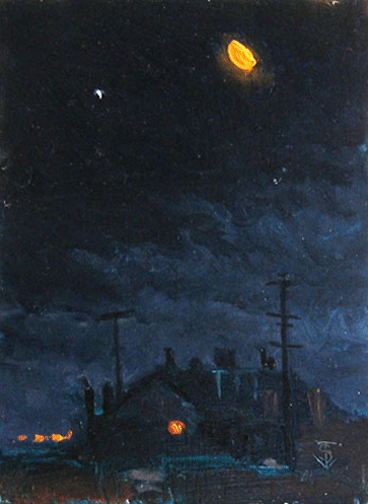 Roof Top Vista, Hotel Duran, 8 x 6 | oil on panel
Godbold, 8 x 10 | oil on panel
Marfa Mystery Lights, 10 x 14 | oil on panel
Moonrise Over Marfa, 10 x 20 | oil on panel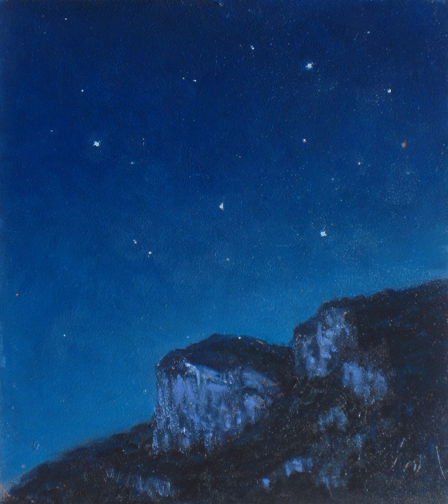 Starry Night Over the Tet, 12 x 19 | oil on panel
The Palace Monaco, 10 x 14 | oil on panel
The Watch Tower, Monaco, 10 x 8 | oil on panel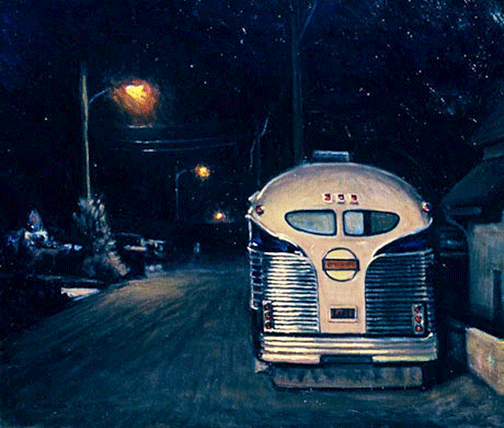 Back of the Bus, 22 x 26 | oil on canvas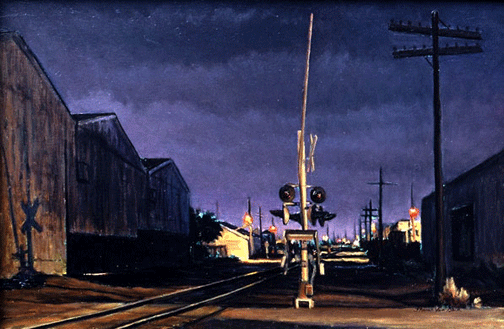 Crossing Vernon, 20 x 30 | oil on canvas
Butterfly Moonset, 9 x 12 | oil on canvas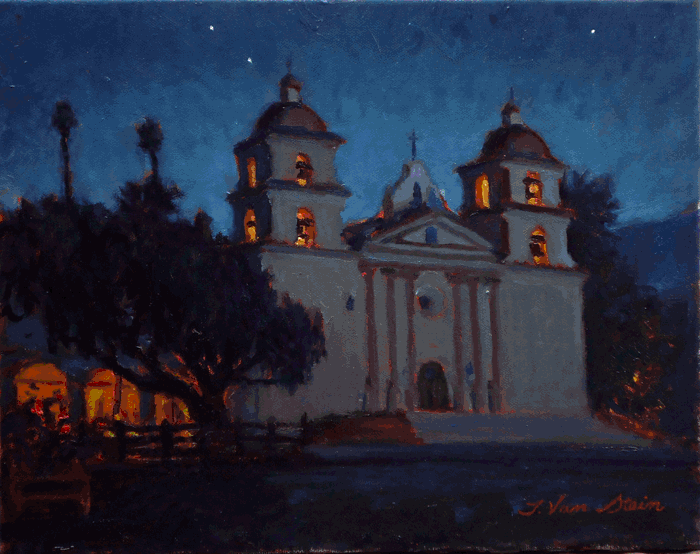 Mission, 12 x 16 | oil on canvas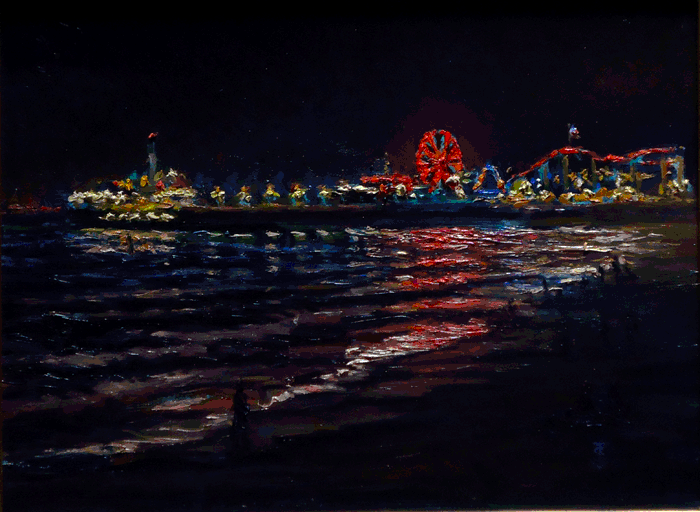 Santa Monica Nocturne, 12 x 16 | oil on canvas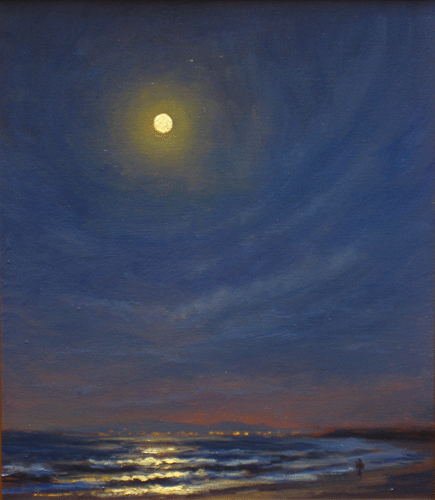 Summer Moonset, Carpinteria, 14 x 12 | oil on canvas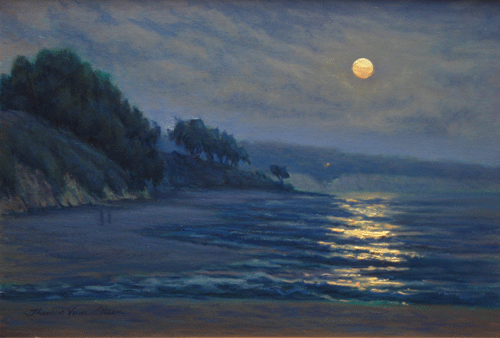 Summer Moon, Goleta, 14 x 20 | oil on canvas
Palms, 6 x 6 | oil on canvas
Isla Vista Moonrise, 8 x 16 | oil on canvas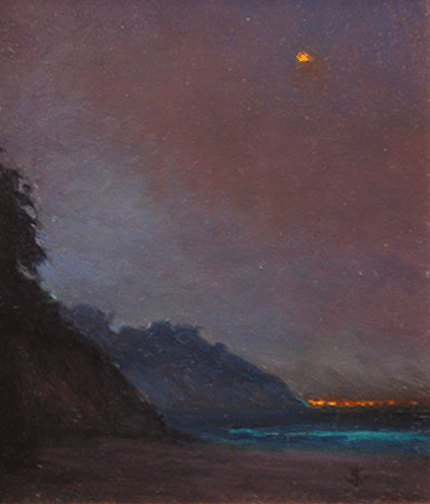 Mars Rising, 11 x 9 | oil on panel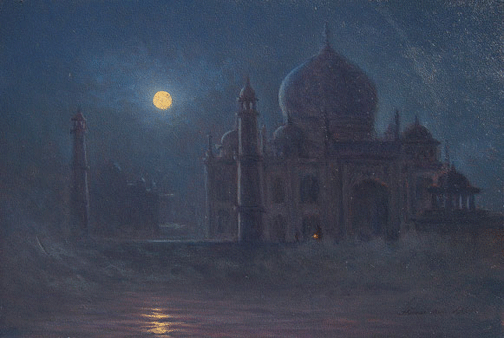 Blue Moon, Taj Mahal, 14 x 20 | oil on canvas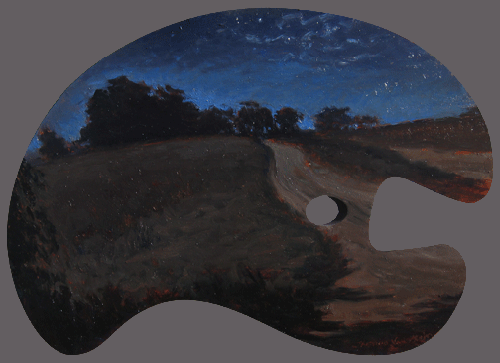 Artist Palette: Full Moonlight, 18 x 23 | oil on wood palette
Arroyo Seco, 21 x 28 | oil on canvas
Twilight, Carpinteria Marsh, 10 x 12 | oil on canvas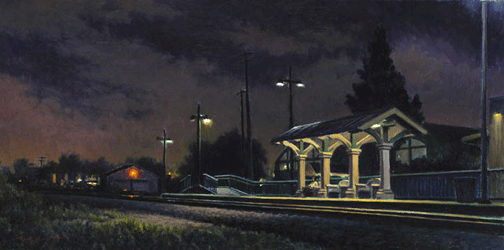 Waiting on the Train, 22 x 44 | oil on canvas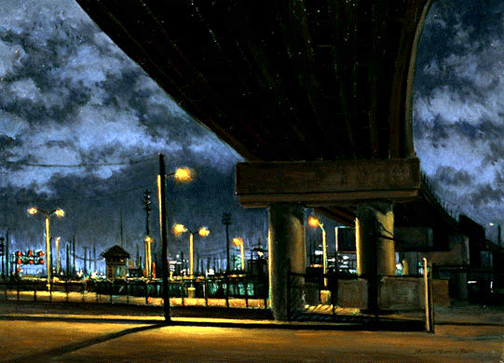 Bridge Downtown, 26 x 36 | oil on canvas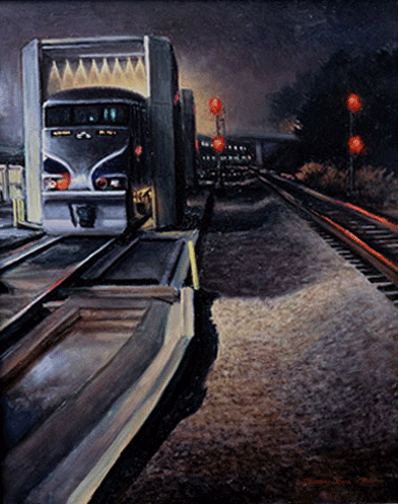 Amtrak Bath, 30 x 24 | oil on canvas
Twilight Zone, 33 x 70 | oil on canvas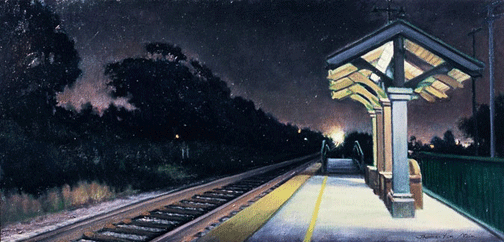 Whistle Stop, 20 x 40 | oil on canvas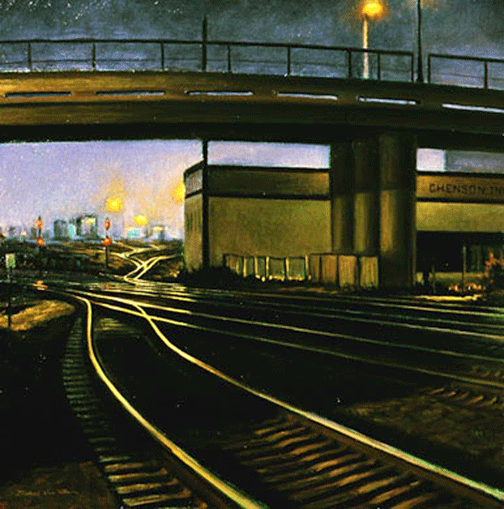 Over, Under and Through, 30 x 30 | oil on canvas
Butterfly Sunbathers, 6 x 8 | oil on canvas
Mountain Drive Vista, 12x24 | oil on canvas
Santa Barbara is often considered the American Riviera due to the windy roads flanked by walls cut by Italian stone masons in the early 20th Century, the Mediterranean style homes, Palm trees, vibrant Bougainvillea, mild climate and golden light.
Back Road, 12 x 9 | oil on board
Back behind my home town there's a small road that meanders through groves of pepper trees. It is a road seldom used but by farmers and horse ranchers. I could easily imagine an old Model T Ford putting down the lane. It is here I held my class on another silvery day. For this demonstration painting we stuck to the Velasquez Palette, restricting the palette to four colors; Alizarin Crimson, Ultramarine Blue, Burnt Umber, Yellow Ocher, and Titanium White. This palette teaches the student to mix and blend their colors to achieve representations of what they are seeing in front of them, rather than working to achieve realistic interpretations. Private Collection
High Noon, Keeler, 9 x 12 | oil on board
This is a demonstration painting from a plein air oil painting workshop I taught, up at an old ghost town called Keeler. It rested at the, "End of the Line" for the old Narrow Gauge Railroad coming down through the Owens Valley, California. Today it still has an active post office for the population of 12. Please contact James Main Fine Art, Santa Barbara, California: (805) 637-8632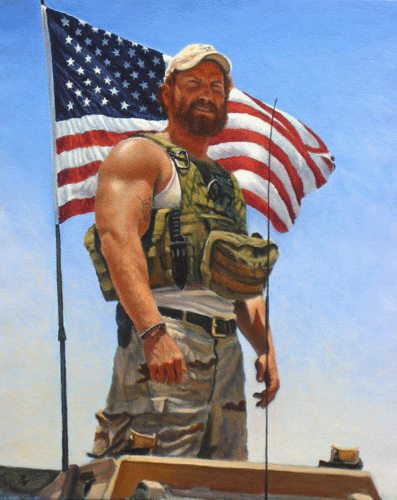 Staff Sgt. Josh Townsend, Green Beret, 20 x 16 | oil on canvas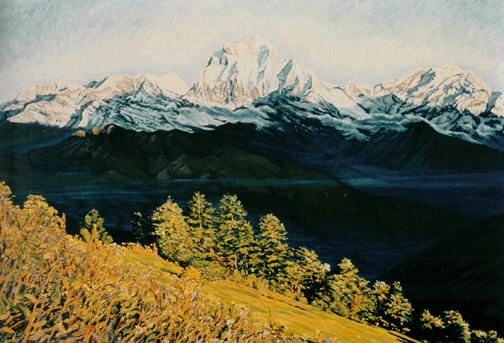 Mt.Dhirligiri, 60 x 84 | oil on canvas
Painted for Sid Sodos. This painting is taken from an image I photographed in Nepal in 1986.
It is one of eleven paintings of mine collected by Mr. Sodos.
Kenny Sultan and Friends, 18 x 18 | acrylic on board
Painted for Kenny Sultan, Santa Barbara, CA.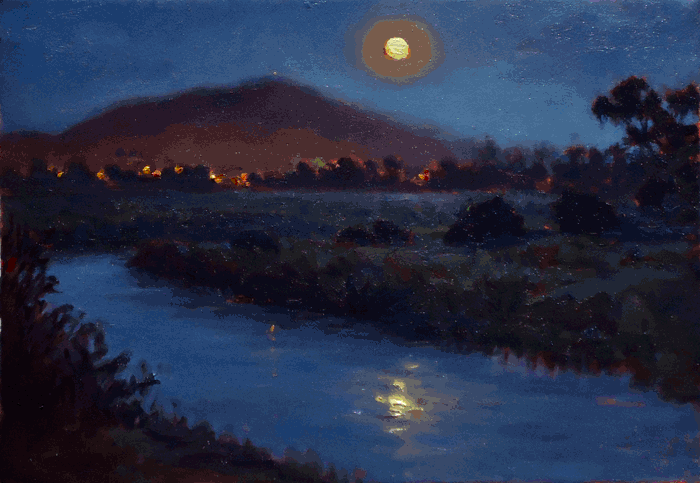 Carpinteria is graced with it's own preserve, owned and operated by UCSB. I am fortunate to have access to a road which can take me out to the center of the slough. It is a magical place to see and paint nature. Moonrise Carp Marsh, 14 x 20 | oil on canvas SOLD
new moonset, goleta 9x15 oil 2012.jpg
winter moonset, carpinteria, 9x14, oil, 2012.jpg
rose moon over the court house#1.jpg
the witch house.jpg
hunter's moonrise, west beach.jpg
moonrise homestead.jpg
Every now and then the coastal fog creeps in. If I am in the right place and right time I will hustle down to the waterfront in Santa Barbara, set up my gear, and work diligently to capture Chiaroscuro affect of the night. Mission Creek in Fog, 20 x 26 | oil on canvas Contact James Main Fine Art and Antiques, Santa Barbara California (805)637-8632
I took a journey to Bakersfield, and Oildale with my Surreal Bounce colleague, Robert Eringer. Up on the Mesa near the College there is a vista which looks out over the oil fields of Oil Dale. I painted this to capture the irony. The golden light at sun set, the miles of drilling and pumping the black gold out of the ground, and the couple embracing on the bench breathing the spores from the valley below. It was one pleasant afternoon. Painting featured on Santa Barbara Public Access Ch. 17, American Riviera; episode "The Bake"
Painting status: Available for purchase. Contact James Main Fine Art, Santa Barbara California. (805)637-8632
Oil Dale at Sunset
16x24 oil/canvas
Painted on location looking South West from on top of the Security Building (10th Floor) in Downtown Los Angeles
It was a gritty night.

Moonrise Over Skid Row SOLD
28x24 oil/canvas
Painting Available. Contact: James Main Fine Art and Antiques, Santa Barbara (805)6378632
Painted on location in Santa Barbara, on Anacapa near the Beacon's Building. When I started the painting before sunset their were many cars on the street. When I finished the scene before me looked like a ghost town.
Late Night in the Funk Zone
Exhibited at the Carnegie Art Museum, Oxnard California in my first Solo Museum Exhibition.
Painting available for sale. Contact James Main Fine Art, Santa Barbara California. (805)637-8632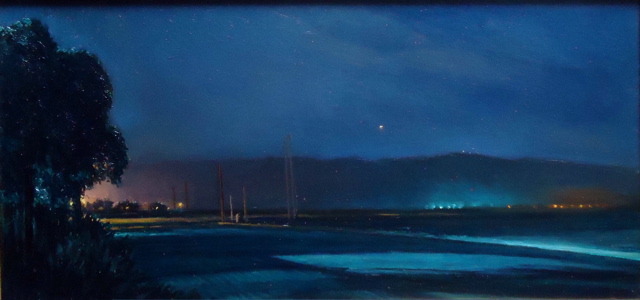 Continuing in the trend of painting "Unsellable Paintings" for my solo museum exhibition I sought out this desolate view in Port Hueneme, looking North East across the plains of Camarillo, toward the Santa Monica Mountain range. I stood in the dark, on a field of broken glass. Graffitti covered the adjacent walls, letting me know this was a special place for creatures of the night.
Painting Exhibited: Carnegie Art Museum, Oxnard California, Eleanor Ettinger Gallery, New York, Bottoms Fine Art Gallery, Santa Barbara.
Painting available through James Main Fine Art and Antiques, Santa Barbara, California
Shadows Cast
18x30 oil/canvas
I traveled to London and Iceland with my Surreal Bounce colleague Robert Eringer, in search of the purity of the night sky, and found creativity and madness. I painted this painting looking out my window, Room 909, overlooking St. John's Wood, London. I captured the Double Decker Buse in the round about, which unfortunately no longer exist.
Round About Midnight
14x10 oil
Painting Status: Available for Purchase through James Main Fine Art, Santa Barbara, California. (805)637-8632
The plein air festival was over. A lonely wind swept through the park, and occasional passer's by. I decided to paint this painting of the city's gazebo; the gathering place for the community after 9-11, and the earthquake that nearly destroyed Paso Robles a few years ago. The art gallery: Studios on the Park, can be seen in their florescent decor, through the trees on the left. This was the first time I'd placed a dog walker and his dog doing his duty, into a painting. This painting was blogged by Steve Doerhty, Chief Editor of Plein Air Magazine: http://www.outdoorpainter.com/tips/nocturnal-paintings-732.html
Late Night in the Park, Paso Robles, 8x10 oil/board $1800.00
Plein air Master's Exhibition, Studios on the park. Painting available for sale through James Main Fine Art, Santa Barbara CA. Contact: James Main (805)637-8632
I visited Seattle last year and stayed at a lovely hotel right on the waterfront, with a balcony view directly over Puget Sound. The Full Moon Glistened on the water above the gritty long shore shipping docks, creating an interesting contrast of warm and cool light. Moon Over Puget Sound, 12 x 6 | oil on board Contact James Main Fine Art and Antiques Santa Barbara California (805)637-8632
4th of july festivities, sea world 12x9 oil 2012.jpg
moonrise from summerland.jpg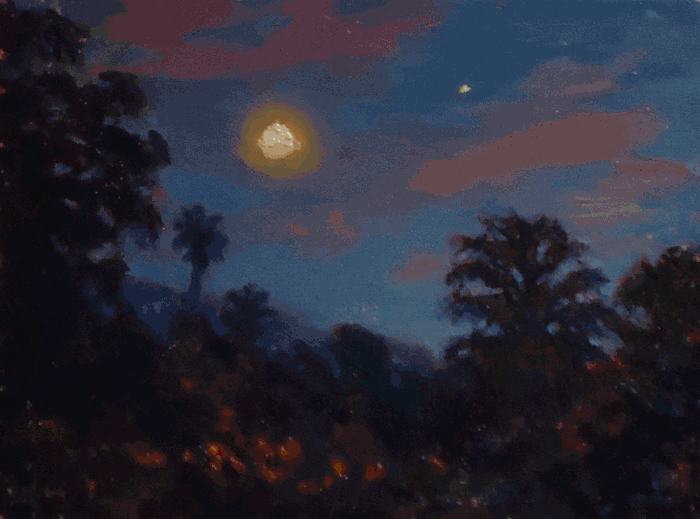 Painted from the home of National Academy member Clarence Hinkle, Santa Barbara Early Moon, 6 x 8 | oil on canvas Please contact James Main Fine Art and Antiques, Santa Barbara California. (805)637-8632
Summerland Vista, 8 x 8 | oil on board
Summerland Beach Overlook Park near Santa Barbara is pleasant place to view the expanse of the Pacific Ocean. Framed by bougainvillea, this vista painting, captures the mellow glow of afternoon light looking outward toward Santa Barbara.
St Anthony's Fall, 14x12, oil/canvas
After the big earthquake in 1925 Santa Barbara Rebuilt with a theme of Old Spain amongst its architecture.
This painting, "St. Anthony's in Fall"; when the Sycamores begin dropping their leaves and the old Monestery under low light begins to show her age brings back memories of the old world. St Anthony's Seminary reminds me of the architecture I witnessed in Segovia, or Sevilla, Spain. This painting was created as a demonstration painting for my plein air painting class; where the theme was Antiquity.
The challenge or criteria, was how to maintain the "feeling" of antiquity and historic nature of a subject by rendering it in a timeless light.
If you would like to purchase this painting please contact James Main Fine Art, in Santa Barbara California (805)637-8632
Harbor Tug Nocturne, 18 x 24 inches
Winter Moonset, Carpinteria (SOLD)
Spring Street Nocturne, 24 x 20 inches
Midnight in the Funk Zone 12 x 16 inches